Tusan Beach rose to prominence after the amazing bioluminescence phenomenon was discovered in the area in September this year. The pinpricks of light glittering on the incoming tide on the shore of Tusan Beach have been drawing huge crowds to this previously neglected beach especially during weekends.
According to National Geographic, the biological light, or bioluminescence, in the waves is the product of marine microbes called phytoplanktons. As the dinoflagellates float, movement in the surrounding water sends electrical impulses around a proton-filled compartment inside the microorganisms. The electrical pulses open the voltage-sensitive proton channels, triggering a series of chemical reactions, which ultimately activate a protein called luciferase that produces the neon blue light. Scientists think that bioluminescence may also be a form of defense for the life forms.
I did not have the chance to witness the bioluminescence yet. A trip to Luak Bay Esplanade one night over a week ago turned out to be a big disappointment as no such bioluminescence was spotted that night.
It was only yesterday afternoon that I finally made a trip to Tusan Beach just to see for myself why a lot of Mirians are raving about the beach.
Tusan Beach is near Bekenu, a small town about 47 km from Miri. Its smooth sandy beaches, coral reefs, beautiful cliffsides, rock formations, and the defining large cliff with a natural arch eroded through it making it look like a horse head.
Compare the cliff to the photo of a horse head.
Natural rock formations on the cliffside make it a geologists' paradise.
There is also a beautiful rock pedestal .
The small cave in one of the cliffs has been a favourite among visitors to Tusan Beach. Certain sections of the cave have very low ceilings. I made a short video of the cave but it was not easy in one part of the cave where the ceiling is rather low and I had to bend so low to get through, causing some shake to the video.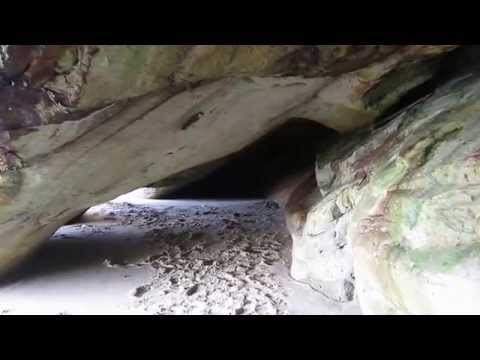 I spent about one and a half hours at the beach with my nephew Esmond Ngieng. The waves were rippling gently, creating a sea song that was rather soothing. The air was pregnant with the smell of salt. As I looked up into the sky, I saw tufty clouds of wizard-white drifting past. I was glad to get away from the hurly-burly and stresses of life. Few things are as blissful as an amble by the seashore, savouring the indefinable beauty of the sea and the beach.
It was a most pleasurable outing and I only have one word to describe the area…WOW!!
One last word of appeal to fellow Mirians….please don't litter at the Tusan Beach area. It is at the moment reasonably clean though I do see occasional litter like cigarette boxes, plastic straws and the like. Please don't leave anything behind except your footprints!