Japan passed the Virtual Currency Act (Act) in March 2017, making it the first country in the world to recognize bitcoin as legal tender. It therefore does not come as a surprise that the first cryptocurrency band in the world has emerged from Japan.
With crypto-maniac Japanese investors likely sitting on hefty gains, it's time for celebration and it comes in the form of an all-girl eight member pop group called Kasotsuka Shojo, which translates to "the Virtual Currency Girls." Each of its 8 members represents a cryptocurrency that is popular in the Japanese market: bitcoin cash, bitcoin, ether, neo, nem, ripple, mona, and cardano. Promotional material shows the group members wearing character masks, frilly mini-skirts and "maid" aprons complete with knee-high socks.
18-year-old Naruse Rara, representing bitcoin cash (BCH), is the leader of the group. Representing Bitcoin (BTC) is 16-year-old Hinano Shirahama. 22-year-old Suzuka Minami is Neo (NEO). 17-year-olds Kanako Matsuzawa and Koharu Kamikawa are Cardano (ADA) and Nem (XEM) respectively. 15-year-old Hinata Kozuki is Ripple (XRP). Ether (ETH) and Monacoin (MONA) are represented by Ami Amo and Momo Aisu respectively; the two did not disclose their ages.
The Virtual Currency Girls appear to have tapped into a major trend , singing about personal finance, bitcoin and other cryptocurrencies. Naruse Rara says the band wants to promote the idea that virtual currencies are not just for speculation but a great technology that will shape the future.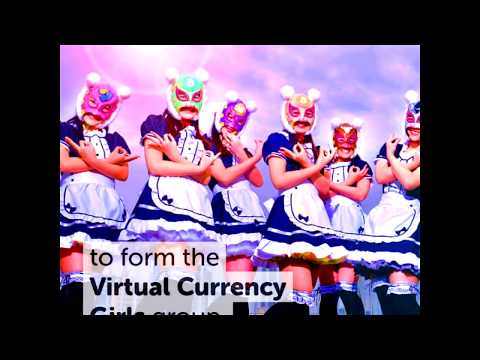 According to management firm Cinderella Academy, the band is holding their debut concert in Tokyo today where people will be able to purchase concert tickets and merchandise with cryptocurrency only.
In their debut song, "The Moon and Virtual Currencies and Me," the girls warn against fraudulent operators and urge people to ensure their online security. They cited concerns over initial coin offering (ICO) fraud and financial damages through speculation.
Listen to "The Moon and Virtual Currency and Me" below: